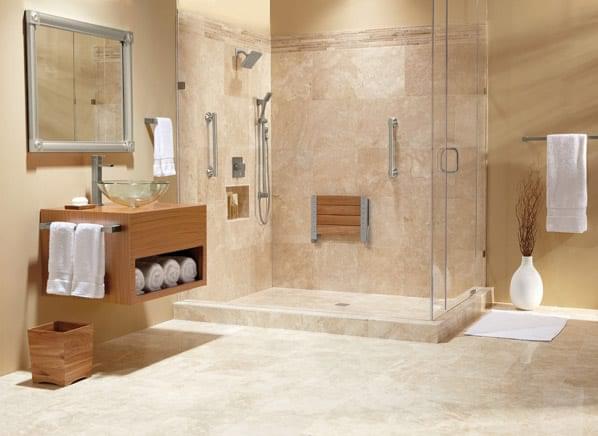 Meet All Your Bathroom Remodel Needs
Bathroom remodeling: Bathroom is a special place in your home. Your days start and end there. It is the place of your rejuvenation, and ceremonies. The more you like your bathroom, the better the experience. Nothing ruins this unique time for yourself more than crumbling finishes, outdated design, or worst yet, toxic mold. Precision Home Design & Remodeling can customize your bathroom renovation and turns your ideas into a reality. We transform your old, outdated bathroom into a luxurious and stylish spa bathroom you deserve. Meet All Your Bathroom Remodel Needs: Just like every home serves exclusive needs of its habitants, bathroom is only perfect when it fits your unique needs. Precision Home Design & Remodeling is a local San Diego home improvement company that offers preeminent bathroom remodeling options. Whether small or large, modern or classic, simple or custom, our team of bathroom renovation experts has more than fifteen years of experience in designing a wide variety of bathroom styles. Our highly-skilled craftsmen are devoted to making your bathroom perfect especially for you. We reliably handle the entire project from the initial design service to the actual construction phase. Throughout the process you have the peace of mind you deserve while Precision Home Design & Remodeling works wonders on your bathroom space. We provide you with daily reports on the progress and make sure all the set timelines are strictly met. Our specialties include: • Design (3D Rendering) • Cabinetry/ Vanity • Electrical • Plumbing • Walk-in shower installation • Hardware installation • Countertop installation (Granite, Marble, Travertine, Caesar Stone and Quartz) • Lighting configuration • Tile installation (Ceramic, Porcelain, Mosaic, Natural Stone and Glass Tiles) • Shower Layouts • Flooring Installation. • Painting Services • Vanity/ Sink/ Faucet installation • Wall Removal • Heated Floors Bathroom remodeling materials […]
Bathroom remodeling:
Bathroom is a special place in your home. Your days start and end there. It is the
place of your rejuvenation, and ceremonies. The more you like your bathroom, the
better the experience. Nothing ruins this unique time for yourself more than
crumbling finishes, outdated design, or worst yet, toxic mold.

Precision Home Design & Remodeling can customize your bathroom renovation
and turns your ideas into a reality. We transform your old, outdated bathroom into a
luxurious and stylish spa bathroom you deserve.
Meet All Your Bathroom Remodel Needs:
Just like every home serves exclusive needs of its habitants, bathroom is only
perfect when it fits your unique needs. Precision Home Design & Remodeling is a
local San Diego home improvement company that offers preeminent bathroom
remodeling options.
Whether small or large, modern or classic, simple or custom, our team of bathroom
renovation experts has more than fifteen years of experience in designing a wide
variety of bathroom styles. Our highly-skilled craftsmen are devoted to making
your bathroom perfect especially for you.
We reliably handle the entire project from the initial design service to the actual
construction phase. Throughout the process you have the peace of mind you
deserve while Precision Home Design & Remodeling works wonders on your
bathroom space. We provide you with daily reports on the progress and make sure
all the set timelines are strictly met.
Our specialties include:
• Design (3D Rendering)
• Cabinetry/ Vanity
• Electrical
• Plumbing
• Walk-in shower installation
• Hardware installation
• Countertop installation (Granite, Marble, Travertine, Caesar Stone and Quartz)
• Lighting configuration
• Tile installation (Ceramic, Porcelain, Mosaic, Natural Stone and Glass Tiles)
• Shower Layouts
• Flooring Installation.
• Painting Services
• Vanity/ Sink/ Faucet installation
• Wall Removal
• Heated Floors
Bathroom remodeling materials
Bathrooms are generally constructed in comparatively small areas. However,
bathroom remodeling involves the use of countless materials; we have classified
them in four categories
• Fixtures, toilet and sinks:
Available in different styles, colors, sizes, and finishes. Suitable for any type of
bathroom design and decor.
• Cabinets or vanity:
Vanity and cabinets are imperative for any bathroom as they act as storage space.
With us, you have an option to choose a can customize vanity that suits your needs
and budget.
• Flooring:
Porcelain tiles is loved by home owners in San Diego due to its water resistant
properties. Precision Home Design & Remodeling help you choose the right color
and style that will match your bathroom decor perfectly.
• Bath or shower:
Whether you want to fit stand-alone bathtub, a standup shower or any shower and
bathtub, Precision Home Design & Remodeling helps you in choosing the most
comfortable bath or shower accessories.
Why hire us?
Precision Home Design & Remodeling is the most trusted and reliable renovation
company in San Diego. Visit us at WWW.PRECISION-SD.COM and watch real past
clients testimonials. We are the only company that takes client-centered approach
to heart of its business philosophy. Our team of dedicated and experienced
employees not only deliver excellence at each step of the way, they can work with
you until your are fully satisfied. We take every project seriously and work hard to
come up with a plan that blends perfectly with your vision and comfort.
Inquire us today for need of Bathroom Remodeling Services 1-87-SAN-DIEGO