Choosing Precision Is The Right Decision
"We got our dream kitchen thanks to Precision Home Design! Renen and his team are professional and kind. I especially appreciated Renen's willingness to hear our concerns and work with us to find the right course of action. My husband and I were very involved in the entire process (which we know isn't always easy for contractors and their teams), but they were gracious and understanding." Ashley .B.
SUPERIOR KITCHEN REMODELING IN SAN DIEGO
Precision Home Design & Remodeling is your trusted partner in kitchen remodeling in Oceanside, San Diego, Encinitas, Poway, and the surrounding areas. Our experienced professionals are committed to delivering high-quality craftsmanship and exceptional customer service.
We offer various kitchen remodeling services to suit your needs and budget. Whether you're looking to update your countertops, cabinets, or flooring or want a complete overhaul of your kitchen space, we have you covered. Our services include:
At Precision Home Design & Remodeling, we understand that the kitchen is the heart of a home, and we are committed to ensuring it meets your needs and exceeds your expectations. Here are few reasons to choose us for your kitchen remodeling project:

Experienced professionals: Our team has years of experience in the industry, and we have the knowledge and expertise to tackle even the most complex projects.

Personalized service: We take the time to understand your unique needs and preferences and work closely with you throughout the process to ensure your vision is brought to life.

Quality materials: We use only the best quality materials and products in our kitchen remodeling projects, ensuring your new space will be beautiful and functional.
We understand that every kitchen remodeling project is unique, so we take a customized approach to each project. Our process includes the following:
Initial consultation: We'll meet with you to discuss your vision for your new kitchen and get an understanding of your needs, preferences, and budget.

Design and planning: Our team of experts will work with you to create a detailed design plan, taking into account your style, functionality, and budget.

Construction: Once the design plan is approved, we'll begin the construction phase, keeping you updated throughout the process

Completion and final walkthrough: We'll ensure everything is up to your satisfaction and provide a final walkthrough of your new kitchen space.
To kick off the design process, we'll assess your daily routine in the kitchen and craft a design that incorporates functional elements to elevate your experience. Furthermore, our team will provide you with a realistic visual representation of your envisioned kitchen through our advanced 3D design software.
Our kitchen design services are focused on optimizing the space for optimal efficiency and usability. With over 20 years of experience, we collaborate with you to find the perfect balance between form and function by carefully choosing materials that meet your needs. At Precision Home Design & Remodeling, we strive to create kitchens that are both functional and aesthetically pleasing, incorporating all the essential elements into every project.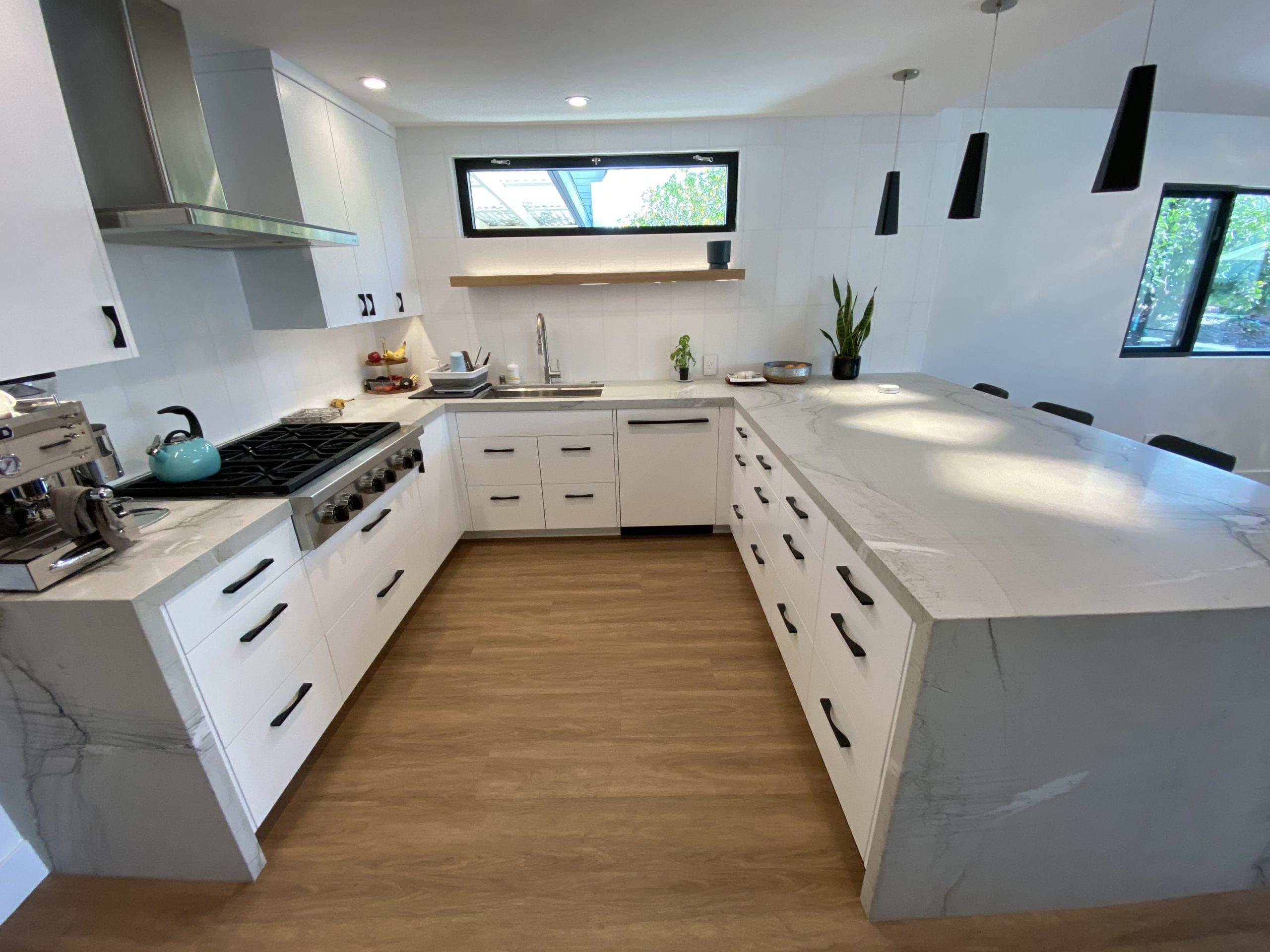 Whether you prefer a classic family kitchen or a sleek, modern design, we strive to bring a touch of elegance, warmth, and harmony to every kitchen remodeling san diego ca we create. At the heart of your home, you can feel the family bond that has always been important to you.
To start planning your kitchen remodels San Diego project, reach out to us today. We are proud to serve customers in San Diego County and the surrounding areas, including La Jolla, Del Mar, Rancho Santa Fe, Carlsbad, Encinitas, Oceanside, Escondido, Poway, Clairemont, Point Loma, Pacific Beach, Chula Vista, El Cajon, La Mesa, Imperial Beach, and National City. If you are seeking inspiration and cost estimates for your kitchen renovation in San Diego, look no further. Precision Home Design & Remodeling is here to help with all your San Diego kitchen remodeling needs, bathroom remodeling, room additions, and custom home building.
Contact us today.
Ready to get started on your kitchen remodeling project? Contact Precision Home Design & Remodeling today to schedule your initial consultation. Our team is standing by to answer any questions and help you bring your dream kitchen to life. Don't wait – call us now to schedule your consultation!
Design the kitchen of your dreams.
Call 877-263-4346
Blueprints and Engineering
"Transform your living space with our professional drafting services in San Diego, CA. Ensuring a seamless planning process for your home renovation project is crucial for staying within your budget, specific time period, and ensuring compliance with local regulations. Our team provides efficient and cost-effective drafting, design, and submittal services to make your renovation project "a success."
Enhance your home beauty in San Diego, CA with Precision Home Design & Remodeling's expert renovations. Adding more livable space may seem complex, but our skilled team will manage every aspect, including architects, engineers, project managers, builders, and city approvals. Rely on us for a seamless renovation experience and the peace of mind you deserve.
Energy Efficient Solutions
Reduce your bills and support the environment with our energy-saving solutions in San Diego, CA. Get advantage of the sunny climate and make your home more eco-friendly with our PACE program, resulting in financial savings and a positive impact on the planet.