San Diego, Designing an Industrial Style Bathing Area
Whether you are a first-time homeowner or a condo buyer in your 50s looking to maximize the kid-free chapter of your life, there's something chic and calming about industrial designs. Maybe it's the mixture of old and new, or maybe it's the use of an efficient design with the warmth of minimalist elements. An industrial style is relaxed and unpretentious while taking its inspiration from industrial spaces and old factories. The question is if you love an industrial look, is it possible to bring it alive in your bathroom?
The answer is yes. At Bath Planet, our design specialists have a unique way to achieve your vision. From elegant showers to luxurious bathtubs and accessories, we'll deliver a bathroom remodel suited to your aesthetic preferences. To incorporate this style into your bathroom, here are 3 top tips for you:
Choose Solid Colors
The industrial style is often marked by the presence of solid colors like gray and white. You can't find pastels or floral details here. Bath Planet offers a wide range of beautiful tubs and shower wall colors to achieve this unique look. You can choose our white subway tile for your walls or go with our concrete pattern for a smooth and sleek finish. If you want your subway tile to stand out, you can opt for our dark gray color. It creates a fantastic base for decoration. We have several REVEAL patterns that you can use for your bath/shower walls.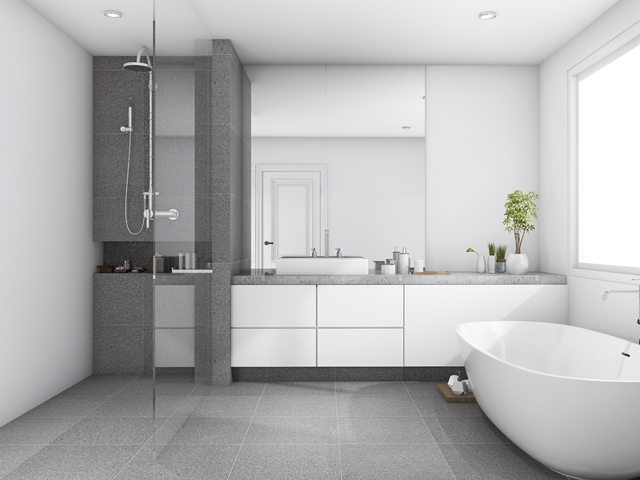 Spice Things Up with Brushed Nickel or Matte Black Accessories and Hardware
No shower and bathtub remodel is complete without customizable accessories like faucets, drains, and doorframes. For an industrial design statement, Bath Planet provides brushed nickel accessories and matte black finishes to give your bathroom an industrial edge. While floral and flashy colors will clash with your industrial aesthetic, these beautiful and cool finishes will further improve the overall design.
Amplify Your Shower and Tub with Accessories
Bath Planet offers a variety of accessories for your bathroom remodel, including grab bars, built-in shelves, seating, and storage caddies. We'll customize these add-ons to suit the style of your renovation. Other ways to enhance the industrial style of your bathroom include black and white vintage pictures or artwork, vintage-looking soap dispensers, metal framed mirrors, complimentary hand, and bath towels.
Learn More About Our Bath Remodeling Services Today
At Bath Planet, we strive to deliver a tub or shower remodel that meets all your needs and design preferences without compromising on quality, value, or style. This is part of what makes us one of the leading bathroom contractors in the United States. We offer premium products in an impressive range of customizable style options. Give us a call today to learn more about our tub and shower replacement services, or fill out our quick online form to request a free and no-obligation cost estimate.