5 ESSENTIAL FEATURES IN A LUXURY HOME DESIGN, Del Mar, CA
Renovating your home can be a great opportunity for you to fully express yourself in your home! While it's an opportunity to update and modernize, it is also an opportunity to introduce elements of luxury into your space. If you have the means to undergo a high-end Design in Del Mar, give yourself ample time to dream up all the luxuries you may want, then slowly start prioritizing your list to determine which ones will ultimately end up in your renovation. Here are some common features that we have seen in our many years of creating luxury interiors!
MODERN KITCHEN
One of the best ways to update your home to make it feel ultra-luxurious is to modernize your kitchen. Because your kitchen is the heart of the home, redesigning and remodeling your kitchen can be a breath of fresh air for the entire space! One way to take your kitchen to design from ordinary to extraordinary is to invest in upscale kitchen appliances. Increasingly often we are seeing clients ask for top-of-the-line appliances from Wolf, Aga, and Viking, which not only elevates the level of luxury in the space but can also help to increase your home's value overall! In addition to high-end appliances, another great way to give your kitchen a luxurious feel is to consider the "hidden kitchen", which in essence means hiding certain appliances to blend in with your cabinetry. This trend has been in vogue for many years, and though it began in the sleek, minimalist modern homes, it has become an increasingly popular trend in all styles of luxury kitchens. The best part is you can decide how much is shown, and how much blends in! Hidden behind the coordinated walls of cabinets are things like state-of-the-art coffee stations and small appliances. Incorporating accent shelves will break up the expanse of cabinetry and allow room for displaying your favorite items!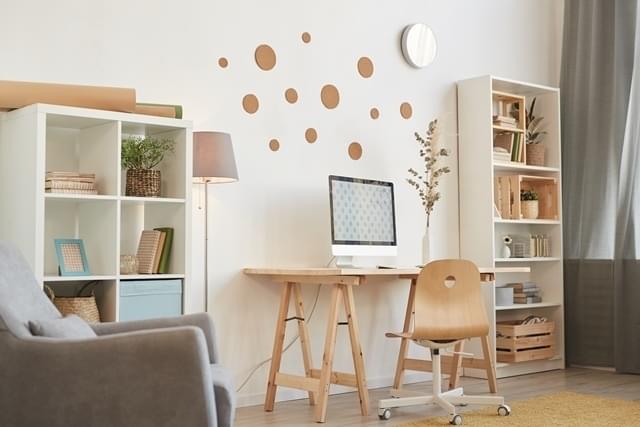 PLAY WITH TEXTURE
The texture is one aspect of the home design that can often be overlooked, but it can play a key role in the overall look and feel of the space. Texture can mean a lot of things when discussed in terms of interior design, and is traditionally defined as "the sensations caused by the external surface of objects received through the sense of touch." This basically means how we react to touching things; are they soft or rough? But it can also apply to visual texture throughout the space, meaning that texture helps to pull visual weight evenly throughout the room. While rough textures can tend to feel more intimate, smooth textures are more formal, and by putting a smooth texture directly next to a rough, you'll make the rough object stand out more and seem weightier than if you space them apart. The texture will help create balance throughout the room and provide contrast to help the eye settle in one place. It is particularly important when working within a monochrome color palette where the shades are very similar because things can start feeling very muddled and monotonous. Using heavily contrasting textures in a monochrome space will help create a sense of harmony, and elevate the singular color palette even more! One super unique way to play with texture in your home is to incorporate Venetian plaster.
HIGH-QUALITY MATERIAL
Nothing says luxury more than high-quality materials! Granite, quartz, marble, are incredible choices for both the kitchen and the bathroom for tiling, countertops, and accents due to their longevity, beauty, and time-tested performance. While many people believe a renovation should be done at the lowest cost possible, we disagree. In reality, spending a little bit more to upgrade to high-end building materials can add several times that amount of value to the property. Not only this, but even before you are ready to sell (if you plan on selling at all!) you can enjoy the fruits of your investments immediately rather than having to wait to upgrade yet again in the future! Quality features add immediate comfort and exclusivity to the surroundings, so you can relax and spend time with your family as soon as the renovations are finished. High-quality materials extend to cabinetry, fixtures, flooring, appliances, stone, and more, and while not everything has to be top of the line, choosing materials that are well made and of a higher standard will more likely ensure that your investment will last longer than their cheaper counterparts. Choosing better materials also can mean lower maintenance and repairs because of the cost upfront! So while things may be slightly more expensive in the short term, in the long run, you are investing in your happiness and your home which can actually mean less money spent in the long term!
WOODEN FLOORS
Wood floors automatically make a space feel warm and inviting, but also super classy and luxurious. When wood is nice and polished, it reflects the light beautifully making even small apartments feel large and opulent! Hardwood flooring offers a sense of comfort which lies in the fact that you know how it will perform and how it will look. Just like any home renovation, you want to be sure you are making a good investment with your flooring. It should retain its value well; costs a reasonable price for materials, installation, and maintenance; and meet your style, budget, and lifestyle needs. It's an indulgence in that you might be able to find a similar look in a less expensive 'fake' product, but only the real thing will suffice. The luxury of hardwood flooring is determined by exclusivity, namely through look, presentation, value, quality, and service. But if hardwood floors are perhaps a little outside of your budget, but you want the same feeling of luxury, consider Luxury Vinyl Planks (LVP). While hardwood floors are just that, made from oak, maple, or sometimes a wood composite, LVP is made from several layers, which include a protective wear layer, the wood-look design, vinyl core, and attached backing on some products. It is an incredible simulation of real hardwood, but is actually a tile that can be easily glued down and snapped into place! For more information on what would be best for your home, get in touch with our designers to schedule a consultation.
BATHROOM UPDATE
Finally, one of the best things you can do to make your home feel ultra-luxurious is to update your bathrooms! Not only does updating your bathroom ensure that your plumbing is up to date and up to code, but it also gives you the opportunity to incorporate modern elements like recessed lighting and updated modern tiling can bring a real sense of luxury to a space! For instance subway tiles, though classic, can be updated by utilizing them in unique ways. Laying them on an angle or in a herringbone pattern, and utilizing dark or colored grout is a great way to update a classic style!  Small changes like changing out your fixtures and showerhead can also have a big impact on the luxurious feel of your bathroom by making it feel less standard and more spa. And while you may think that large 6-jet jacuzzies are the height of luxury, what's actually more "in" these days are large showers, steam showers, standalone feature tubs, sleek cabinetry, marble counters and floors, under-floor heating, heated towel rails, and a sauna.